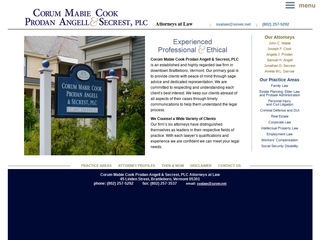 Are you searching for up-to-date information about the
Hunt Angell, Samuel, JD
law firm situated in
Vermont
? Below are both positive and negative reviews from existing clients and questions asked by users on the Discussion Forum and in the Legal Advice Center. The lawyers of the Hunt Angell, Samuel, JD
firm reside at 45 Linden St
, with the zip code of 5301, as may also be seen on the map. If you have any personal experience of lawyer Hunt Angell, Samuel, JD, who specializes mainly in "
Attorneys & law firms & Criminal defense attorney
" as well as in other areas of law and defense, do not hesitate to
share your opinion
of this lawyer with this firm and users who follow this legal profile. Further information on the current offer of legal services of this law office may be found on their official website:
visit website
.
Can't believe there are no reviews yet? You can be the first reviewer.
Let us know what you think
or ask for more information about this law office.
Rate This Lawyer!
More details about this law office
Who are our lawyers:
Hunt Angell, Samuel, JD
Facebook link:
link on facebook profile of Hunt Angell, Samuel, JD not set. Facebook page is a great online marketing tool for attorneys and law firms from
Brattleboro
and around. Potential customers can get exclusive ratings and reviews from real clients who are online on Facebook! There are common mistakes, that law firms focused on "Attorneys & law firms, Criminal defense attorney" make with Facebook pages. Check attorney posts, pages and advertising options and improve your attorney-client relationship and expert rating!
Twitter link:
Link on twitter profile not set. There are many innovative ways to use Twitter for lawyers from
Brattleboro
in 2017/2018.
Create
your own Twitter business profile & establish your Twitter presence.
Google+ link:
link on google + profile for Hunt Angell, Samuel, JD not set (claim this profile and add google plus link). Many people search for your business on Google! Some lawyers in Vermont Brattleboro have noticed the benefits of other social platforms and are starting to establish them. You can create your own
google +
profile.
Opening hours:
The general opening hours for a business not set. Make the most of your first meeting with a lawyer.
Phone number:
(802) 257-5292
Full adresss:
45 Linden St Brattleboro, VT 05301
Law office details:
corum mabie cook prodan angell & secrest, plc is a professional law firm with six attorneys located in downtown brattleboro, vermont. our primary goal is to provide clients with peace of mind through expert advice and dedicated representation.
Categories:
corum, mabie, cook, prodan, angell, secrest, corum, mabie, cook, prodan, angell, secrest, law firm, lawyer, lawyers, attorney, attorneys, vermont, vt, vt, vermont, brattleboro, brattleboro, windham county, windham, meritas, meritas, litigation, trial law, trial, federal, appeal, business, businesses, corporate, securities, labor, employment, employer, employee, real estate, land use, environmental, zoning, tax, taxation, personal injury, injury, motor vehicle, accident, accidents, wrongful death, medical malpractice, malpractice, product liability, products liability, defective products, nursing home, slip and fall, discrimination, harassment, wrongful discharge, wrongful termination, civil rights, insurance, family, divorce, civil union, custody, bankruptcy, estate plan, estate planning, will, trust, criminal, matrimonial law, collaborative family law, adoption law, child custody and visitation rights, separation and divorce, paternity, alimony, child support, prenuptial and postnuptial agreements, post-divorce modifications, civil union law, gay & lesbian family law, domestic violence, grandparents visitation rights, qualified domestic relations orders, qdro, assisted reproductive technology agreements
Description:
Corum Mabie Cook Prodan Angell & Secrest, PLC - Experienced, Professional and Ethical Law Firm located in Brattleboro, Vermont
Are you having trouble finding a reliable and highly-rated attorney in your area of residence? Does the endless process of browsing and comparing law firms annoy you? If so, simply skip this step and post your request (or a general legal question) in our
Free Legal Advice Center
. Then wait for a reply from our experienced legal advisors, consultants or even your chosen lawyers. You can inquire about anything concerning your case, as well as questions about judicial issues in your state.