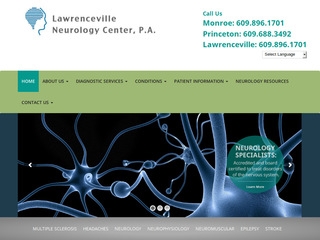 Are you searching for up-to-date information about the
Forsthoffer Jackie
law firm situated in
New Jersey
? Below are both positive and negative reviews from existing clients and questions asked by users on the Discussion Forum and in the Legal Advice Center. The lawyers of the Forsthoffer Jackie
firm reside at 3131 Princeton Pike # 3-202
, with the zip code of 8648, as may also be seen on the map. If you have any personal experience of lawyer Forsthoffer Jackie, who specializes mainly in "
Attorneys & law firms
" as well as in other areas of law and defense, do not hesitate to
share your opinion
of this lawyer with this firm and users who follow this legal profile. Further information on the current offer of legal services of this law office may be found on their official website:
visit website
.
Can't believe there are no reviews yet? You can be the first reviewer.
Let us know what you think
or ask for more information about this law office.
Rate This Lawyer!
More details about this law office
Who are our lawyers:
Forsthoffer Jackie
Facebook link:
link on facebook profile of Forsthoffer Jackie not set. Facebook page is a great online marketing tool for attorneys and law firms from
Lawrenceville
and around. Potential customers can get exclusive ratings and reviews from real clients who are online on Facebook! There are common mistakes, that law firms focused on "Attorneys & law firms" make with Facebook pages. Check attorney posts, pages and advertising options and improve your attorney-client relationship and expert rating!
Twitter link:
Link on twitter profile not set. There are many innovative ways to use Twitter for lawyers from
Lawrenceville
in 2017/2018.
Create
your own Twitter business profile & establish your Twitter presence.
Google+ link:
link on google + profile for Forsthoffer Jackie not set (claim this profile and add google plus link). Many people search for your business on Google! Some lawyers in New Jersey Lawrenceville have noticed the benefits of other social platforms and are starting to establish them. You can create your own
google +
profile.
Opening hours:
Regular HoursMon - Fri9:00 am - 5:00 pm
Sat - SunClosed


Phone number:
(609) 896-1701, 609.688.3492
Fax number:
609.896.3735, 609.688.3493
Full adresss:
3131 Princeton Pike # 3-202 Lawrenceville, NJ 08648
Law office details:
lawrenceville neurology center in new jersey includes neurologists drs. rene gomez, paul kaiser, manuel vergara, aissa alexeeva, chitharanjan rao, kimberly palangio, do.. specialties include epilepsy, neurophysiology, neuromuscular disorders, and stroke.
Categories:
lawrenceville neurology center, neurologist lawrenceville, doctor lawrenceville, new jersey neurology, neurology nj, neurologist nj, seizure, headache, rene gomez, paul kaiser, manuel vergara, aissa alexeeva, chitharanjan rao, kimberly palangio, neurologist lawrenceville, epilepsy lawrenceville, neurophysiology lawrenceville, neuromuscular disorder lawrenceville, stroke lawrenceville
Description:
Lawrenceville Neurology Center, P.A. - Neurologists - New Jersey

- Welcome
Are you having trouble finding a reliable and highly-rated attorney in your area of residence? Does the endless process of browsing and comparing law firms annoy you? If so, simply skip this step and post your request (or a general legal question) in our
Free Legal Advice Center
. Then wait for a reply from our experienced legal advisors, consultants or even your chosen lawyers. You can inquire about anything concerning your case, as well as questions about judicial issues in your state.